Grand Prix Zero Round 2
RORC IRC Nationals
10-12 June
The Royal Ocean Racing Club's RORC IRC National Championships, 10-12 June, will be the setting for Round Two of the new IRC Racing Class Grand Prix Zero (GP Zero) series. Seven ballistic speed machines are expected from the GP Zero Class. Racing in the big boat IRC Class, the GP Zero boats will be looking to win not only IRC Class honours, but also the prestigious IRC National championships overall. Eight races are scheduled over three days of racing with a mixture of windward leeward and round the cans racing in the combat zone.
Niklas Zennström's Carkeek 40+ Rán 7 (SWE) will be the boat to beat, having won the 2022 RORC Vice Admiral's Cup and Rán is also defending their class win in the 2021 IRC Nationals. Rán crew includes a number of young talented sailors teamed up with a backbone of top professionals that have been with Rán Racing for many campaigns; Tim Powell, Steve Hales and Justin Slattery, to name just a few.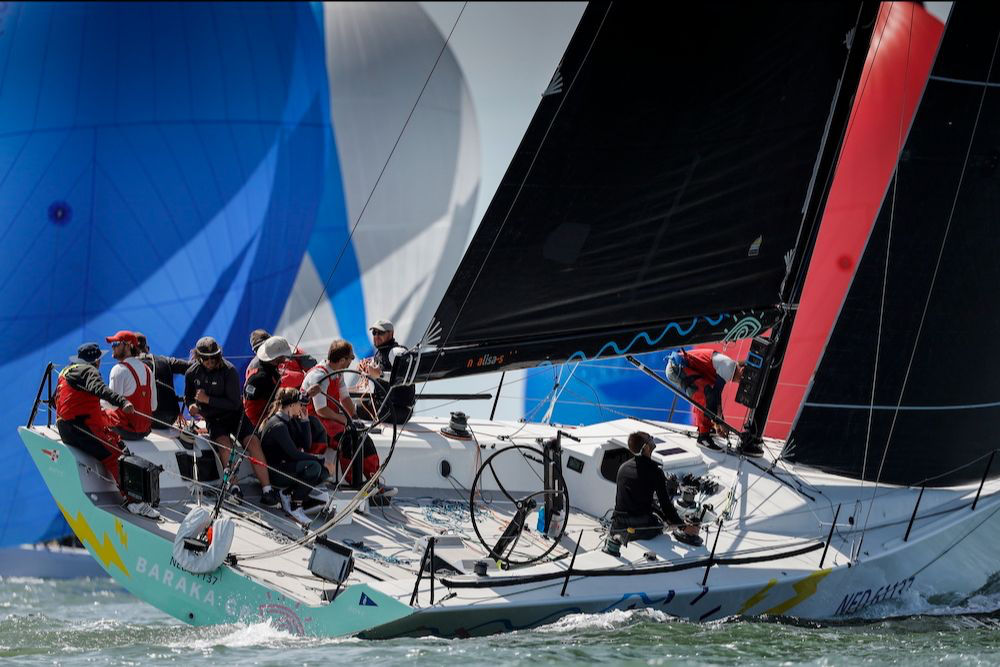 Second place for the Vice Admiral's Cup was GP42 Dark n Stormy (GBR), with Ian Atkins on the helm. Dark n Stormy's crew includes Volvo Ocean Race winning skipper, Ian Walker. Harmen Jan de Graaf's Ker 43 Baraka GP (NED)and Bertie Bicket's modified IC37 Fargo (GBR) return after competing in Round One of the GP Zero circuit. Three boats will be joining the GP Zero action for their first regatta: Ker 46 Van Uden (NED), Ker 40+ Elvis (SWE) andIC37 Icy (GBR).
Uden is in fine form, having placed second in the RORC Easter Challenge and runner-up  overall in the North Sea Race. Van Uden will be coming to Cowes from  the Netherlands to compete in the RORC IRC Nationals and has the longest water-line length of the GP Zero boats. "It was really good to win our class in the North Sea Race, but Van Uden's focus this year is inshore," commented Van Uden's skipper Admiral's Cup winner Johnny Poortman. "Van Uden is a team of young talented Dutch sailors, who have great motivation. Looking at the fleet of high-performance boats and top-class sailors, I am sure we will have a great competition."
Also making their GP Zero debut will Nick Griffith's  IC37 Icy, and no doubt will have a close duel with his friend and rival Bertie Bicket racing IC37 Fargo. The two modified IC37s will be the lowest rated boats under IRC. "The first hurdle will be to get the better of Fargo and then into the bigger boats in our class," commented ICY's Nick Griffith. "We have a young team of aspiring 49er sailors including Aaron Holman and Farr40 European champion Mark Heeley who will be calling tactics."
Filip Englebert's Ker 40+ Elvis is 'back in the building'. Elvis was a popular sight racing in the FAST40+ Class and will be based in Hamble for the RORC IRC Nationals. Filip and his crew are all from Sweden, bar one. Multiple world champion, Admiral's Cup winner and Volvo Ocean Race veteran Bouwe Bekking will be racing on Elvis. "Elvis will be ten hungry Vikings with a Dutch tactician!" commented Filip Engelbert. " I am so much looking forward to racing on the Solent again; the current, the sandbanks, with lots of boats, and perfect race management!"
To stay tuned to the GP Zero Class visit our Facebook page: www.facebook.com/GrandPrixZero
For the latest information on the RORC IRC Nationals visit: www.rorc.org
Images: © Paul Wyeth/RORC
Report: Louay Habib