The Royal Ocean Racing Club, in association with the International Maxi Association (IMA) and the Yacht Club de France are making final preparations for the 2022 RORC Transatlantic Race starting on Saturday 8th January 2022. The longest race in the RORC Season's Points Championship has attracted a record 30-boat entry in the epic 3,000nm race across the Atlantic Ocean and battles are predicted throughout the fleet. Starting from Lanzarote, the teams will be based at two Calero Marinas – Puerto Calero and Marina Lanzarote, and are racing to Camper & Nicholsons Port Louis Marina in Grenada.
The Magnificent Seven – MOCRA Class
Seven multihulls are entered, with a scintillating four-way battle for Multihull Line Honours expected. Jason Carroll's Argo (USA), Giovanni Soldini's Maserati (ITA), Peter Cunningham's PowerPlay (CAY) and Antoine Rabaste's Ultim'Emotion 2 (FRA) are all favourites to be the first to finish the race. The RORC Transatlantic Race Multihull Record is 5 days 22 hrs 46 mins 03 secs (2015 – Lloyd Thornburg's Phaedo 3, skippered by Brian Thompson).
The overall multihull winner is decided after MOCRA time correction, bringing three super-charged teams into the mix. Two French ORC50s have their own line honours duel and the chance of taking victory for the MOCRA Class. Halvard Mabire & Miranda Merron will race Two-Handed with GDD against Quentin le Nabour's fully crewed Club 5 Oceans. The latest entry for the MOCRA Class is a brand-new British Gunboat 68 Tosca, which includes Alex Thomson and Neal McDonald on the team sheet.
Comanche favourite for the IMA Trophy – Monohull Line Honours
The firm favourite for 2022 Monohull line honours and the IMA Trophy is the 100ft Maxi Comanche, skippered by Mitch Booth. With solid trade winds and no major equipment failures, Comanche has the potential to smash the race record. The RORC Transatlantic Race Monohull Record is 10 days 05 hrs 47 mins 11 secs (2018 – Pier Luigi Loro Piana's 130ft Supermaxi My Song).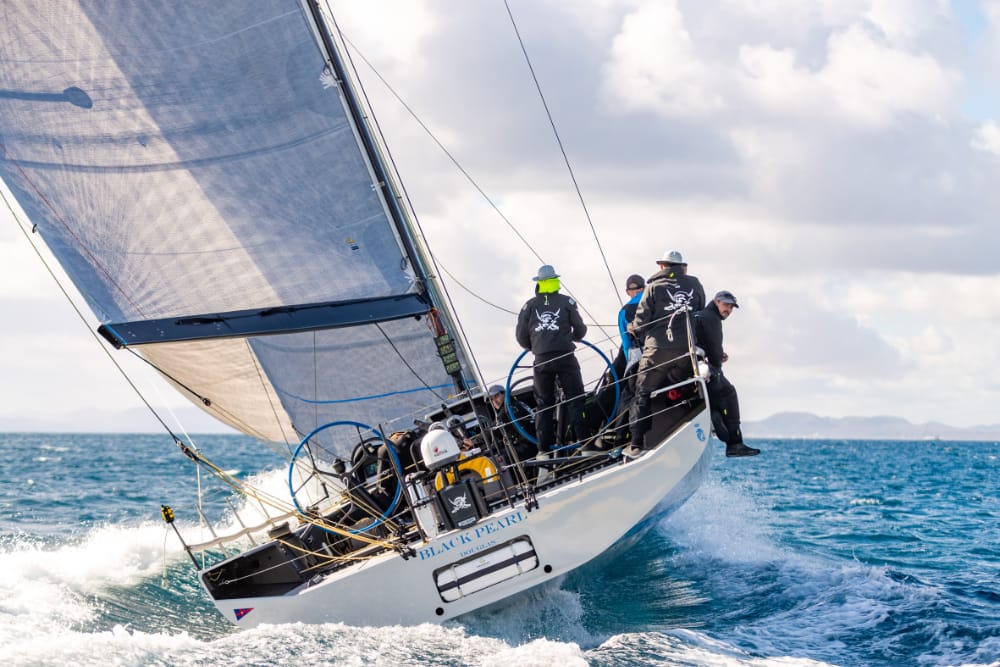 The Ultimate Prize – RORC Transatlantic Race Trophy
Twenty-three teams, including Comanche, have the opportunity to take the ultimate prize for the best corrected time under IRC and to lift the RORC Transatlantic Race Trophy. Three Volvo 70s will be racing: L4 Trifork with Dutchman Bouwe Bekking at the helm, HYPR with German skipper Jens Lindner, and I Love Poland skippered by Grzegorz Baranowski. The Austrian Ocean Race Project's VO65 Sisi, skippered by Gerwin Jansen, makes up a quartet of teams that have the potential to match race across the Atlantic.
One of many races within the race will be fought between high performance 50-footers. A fascinating encounter is expected between Maximilian Klink's Swiss Botin 52 Caro, David Collins' British Botin 52 Tala, and the German Carkeek 56 Black Pearl, skippered by Stefan Jentzsch. Three 60-footers should enjoy a close battle; British Open 60 Rosalba, skippered by Richard Tolkien, French Volvo 60 Challenge Ocean, skippered by Valdo Dhoyer, and Jean Pierre Dreau's French Mylius 60 Lady First 3.
The latest entries for the race include Shahid Hamid's British Swan 58 OMII, a brand-new Juan Kouyoumdjian design, and the Hinckley Sou'wester 52 Diana with Dutch skipper Carlo Vroon.
Dominique Tian's Ker 46 Tonnerre de Glen is the highest rated entry in IRC One and is one of four highly optimised 40-footers in the class. A full-on contest is expected between Mark Emerson's British A13 Phosphorus II, Jacques Pelletier's French Milon 41 L'Ange De Milon, and Andrew Hall's Lombard 46 Pata Negra; overall runner-up in the 2019 race.
In IRC Two, Ross Applebey's highly successful British Oyster 48 Scarlet Oyster is making a RORC Transatlantic Race debut. Another debutant, Christopher Daniel's British J/121 Juno will be close competition. Juno is very much a family boat, with a young crew. Daughter Poppy will helm, son Jack is on the bow and five of the Juno crew are in their twenties.
"For me it is an enormous privilege to have a similar sporting passion with my son and daughter; it is a huge opportunity," commented Christopher Daniel. "Racing across the Atlantic focuses you on the risks, but that shouldn't stop you from doing it. Before the start, top of the wish-list is a crew that is free of Covid. The original plan was to race with seven, but the team has been increased to eight, so if a crew member cannot race, we will still have a full complement."
Three classic designs will be racing under IRC for the Classic Trophy. Henry Cochin's 1968 Philip Rhodes 71ft ketch Eugenia V, skippered by Baptiste Garnier; Martin Westcott's Chilean 1978 S&S Swan 57 Equinoccio, and Remy Gerin's 65ft Spirit of Tradition designed sloop Faïaoahé.
Faïaoahé will be racing Two-Handed with Bernard Jeanne-Beylot against the smallest entry in the RORC Transatlantic Race, Richard Palmer's JPK 10.10 Jangada. Also racing Two-Handed with Jeremy Waitt, Jangada can punch well above her weight having won the race overall in 2019.
For full coverage of the RORC Transatlantic Race, including race updates and stories from the teams, follow the Royal Ocean Racing Club on Instagram, Facebook, and Twitter. For regular updates including satellite tracking go to: www.rorctransatlantic.rorc.org
Latest Entry List HERE
Facts & Stats Document HERE