Sixty-nine boats started the North Sea Race outside the Royal Harwich YC for the 180nm race bound for the Scheveningen Yacht Club, Netherlands. The overall winner after IRC time correction was the J/122 Ajeto! raced Two-Handed by Robin Verhoef & John van der Starre in IRC Two. Second overall, taking Monohull Line Honours and IRC Zero was Richard Matthews' Carkeek 52 Oystercatcher XXXV. Third overall was the Ker 46 ROST Van Uden, skippered by Gerd-Jan Poortman. Congratulations to the IRC Class winners in the RORC North Sea Race: (IRC One) Frans van Cappelle & Michelle Witsenburg's J/122 Moana, (IRC Three) Michel Dorsman's X-362 Xtra Djinn, and (IRC Four) Will & Jenny Taylor-Jones' S&S 39 Sunstone.
Full Results
https://sailracehq.com/raceresults/f3a27b32-7a96-4339-b010-704977eba675?returnUrl=%2Fresults%3Fyear%3D2023
The overall winners of the North Sea Race were tired but elated dockside in Scheveningen. Robin Verhoef and John van der Starre from Ajeto! spoke about their victory.
"This was a great experience; it was a race with a lot of things in it. In the tactics for the long upwind to Smith's Knoll, it was very important that you took the correct shifts, and I think we did that really spot on. After racing Ajeto! for seven years, we know how to run the boat, the different modes and settings become like a computer game, knowing how to set up the boat, in choppy water for example, makes a big difference and we are constantly adjusting the boat. We are always busy but it is worth it for good boat speed and to be competitive.
Our result (under IRC) always depends on the wind. For the North Sea Race, we had 16 knots on the reach on an angle that some boats could not surf. If that had been 20 knots, more boats would have been planning, so our chance of winning would have been less. Ajeto! is a very good all-round boat, it does well upwind and downwind, so we always have a chance, whatever the conditions. The J/122 is not an extreme boat like some of our competitors, and we have modified it, so that on every type of course we can sail well. Also working with Kevin Sproul, we have a sail wardrobe with big cross-overs. This means that we can avoid many sail changes, these take a lot of time when you are Two-Handed."
Ajeto! will be competing in IRC Two Handed for this year's Rolex Fastnet Race, with over 100 double-handed teams expected on the start line in Cowes on July 22nd. "The Fastnet is going to be a fantastic race! This will not be our first in fact we have already raced five times. Of course we want to win but it is also about having fun, that gives us the passion to race hard." Continued Robin Verhoef.
Richard Matthews' Carkeek 52 Oystercatcher XXXV took Monohull Line Honours in the RORC North Sea Race in an elapsed time of 18 Hrs 41 Mins 40 Secs. While this is one of the quickest elapsed times in the long history of the 180nm North Sea Race. The Monohull Race Record is a staggering 11 Hrs 03 Mins 50 Secs, set by Peter de Ridder's VO70 Mean Machine in 2007.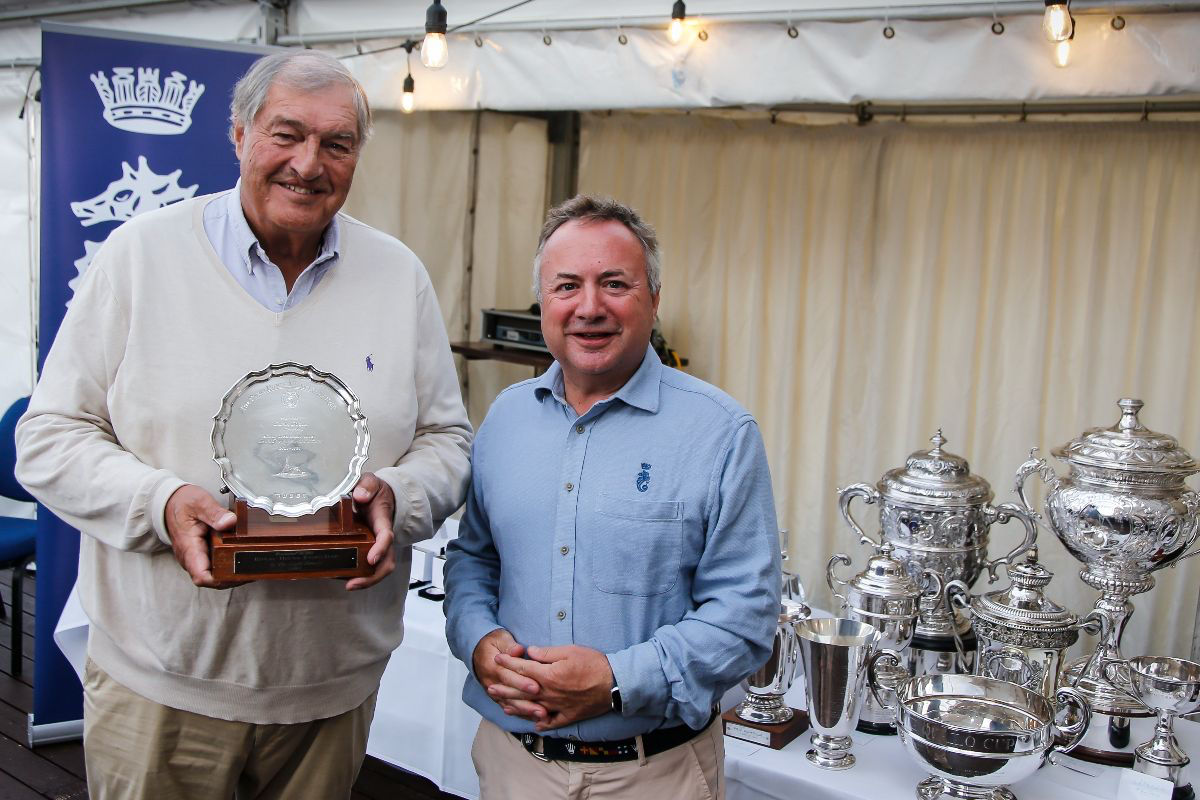 Pictured is Richard Matthews with RORC Commodore James Neville, receiving the RORC Dennis Doyle Memorial salver for the skipper to have completed the most Fastnet races. Richard Matthews' OysterCatcher XXXV is entered for the 2023 Rolex Fastnet Race which will be Richard's 25th race and 22nd as Skipper.
The RORC North Sea Race was first held in 1947 and is part of the 2023 RORC Season's Points Championship, the world's largest offshore racing series. Race seven of the series will be the Myth of Malham Race. The 235nm offshore race from Cowes around the Eddystone Lighthouse, and back to a Solent finish, will start from the Royal Yacht Squadron Line on Saturday 27 May. The first 110 miles of the course mirrors the start of the Rolex Fastnet Race. 161 boats have already entered the RORC Myth of Malham Race.
For more information about the Royal Ocean Racing Club: www.rorc.org