The 2022 RORC Caribbean 600 attracted 74 teams with 738 sailors from 32 different nations.
The Caribbean classic is back with the most impressive fleet in the 14-year history of the race. Moderate trade winds faded to a lighter breeze during the five days of the race, but that did not stop Jason Carroll's MOD70 Argo setting a new multihull race record in a thrilling finish with Giovanni Soldini's Multi 70 Maserati. There was sizzling competition right through all the IRC Classes and the Class40 Division. ClubSwan 125 Skorpios, skippered by Fernando Echavarri, took Monohull Line Honours after a terrific battle with the VPLP/ Verdier 100 Comanche, skippered by Mitch Booth. Christopher Sheehan's Pac52 Warrior Won was the overall winner, lifting the RORC Caribbean 600 Trophy for the best corrected time under IRC.
"Tactically, the RORC Caribbean 600 rates as one of the hardest in the world. It is like a heavyweight boxing match; the lefts and the rights just keep coming at you and you wait for that knockout punch. At any moment you can park up, no lead is safe until the very end," commented Warrior Won's tactician Richard Clarke.
Overall Winner and IRC Zero
Christopher Sheehan's Pac52 Warrior Won (USA)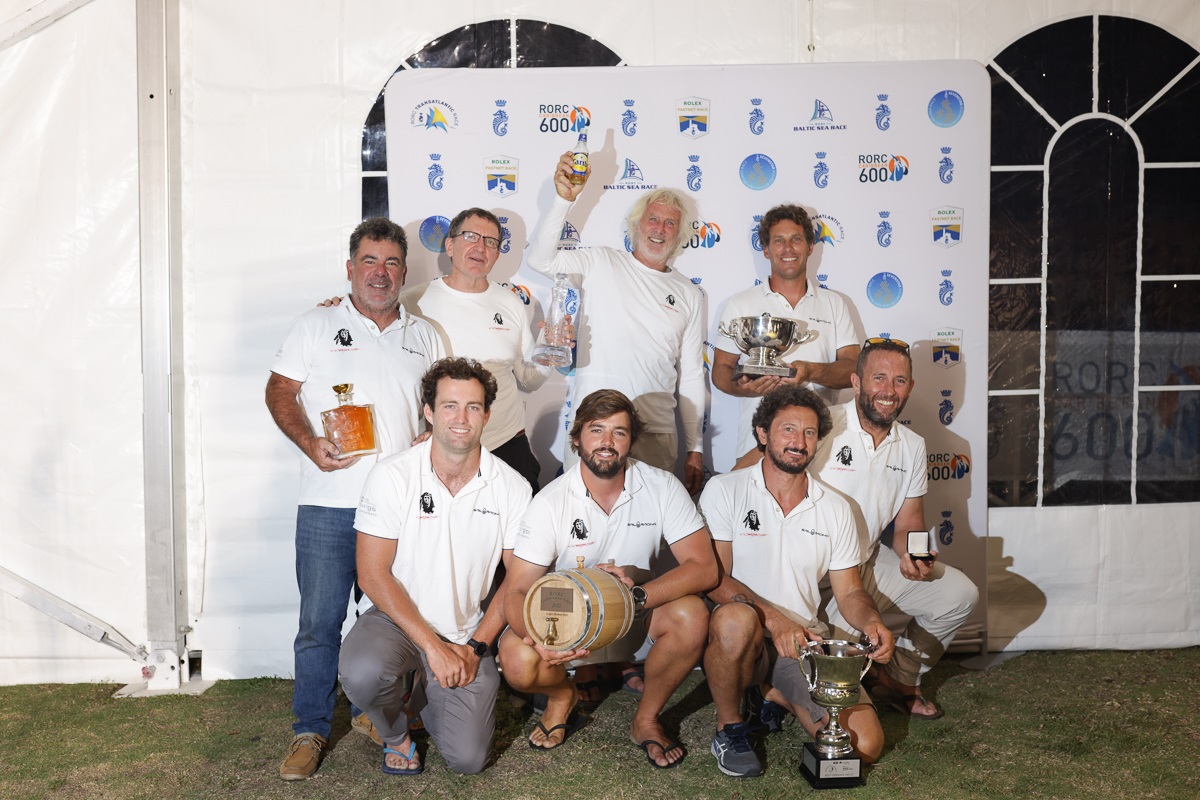 The overall winner of the 2022 RORC Caribbean 600 was Christopher Sheehan's Pac52 Warrior Won (USA). Second was the VPLP/Verdier 100 Comanche (CAY), skippered by Mitch Booth and third was David Collins' Botin IRC 52 Tala (GBR).
Racing in IRC Zero, Warrior Won's victory was against top-class opposition and the catalyst that propelled the team to an overall win. Tala was second in class, Kate & Jim Murray's Pac52 Callisto (USA) was third and Eric de Turckheim's NMYD54 Teasing Machine (FRA) fourth.
"I feel so much joy right now, it is very humbling. I am overwhelmed when I think of all the great teams that have won this race, it is just extraordinary," commented Warrior Won's owner/skipper Christopher Sheehan. "We have been preparing for the last eight months and the mantra of Warrior Won is humility and extreme confidence, which results in positive energy on board, creating hard work and collaboration. Every member of the Warrior Won team has put in an outstanding performance."
Monohull Line Honours and IRC Super Zero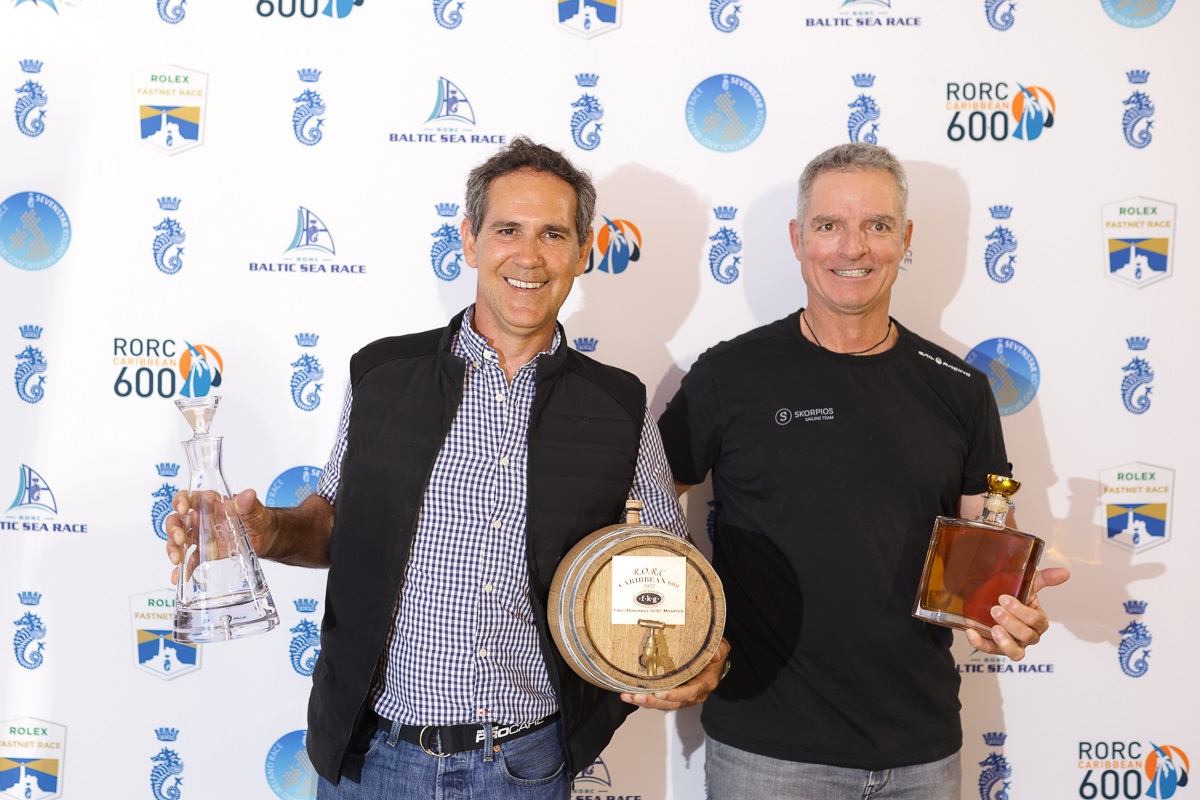 Dmitry Rybolovlev's ClubSwan 125 Skorpios (MON), skippered by Fernando Echavarri, took Monohull Line Honours for the 2022 RORC Caribbean 600. The elapsed time was 1 day, 16 hours, 39 mins, 51 secs. The VPLP/Verdier 100 Comanche (CAY), skippered by Mitch Booth won IRC Super Zero after time correction. Groovederci Racing – Sailing Poland, sailed by Deneen Demourkas (USA) was runner-up. The Polish National Foundation's Volvo 70 I Love Poland (POL), skippered by Grzegorz Baranowski was third.
"I am super-proud of all the team that have made this possible; it has been an incredible effort and very tactical and demanding for the crew with many sail changes," commented Skorpios skipper, Fernando Echavarri.  "The RORC Caribbean 600 is an amazing course because of the beauty of the islands as well as the technical challenges. Thank you very much to the RORC and the people that make this race possible, it is an incredible race and we hope to be here next year."
Multihull Line Honours and MOCRA Class
Record win for Jason and the Argonauts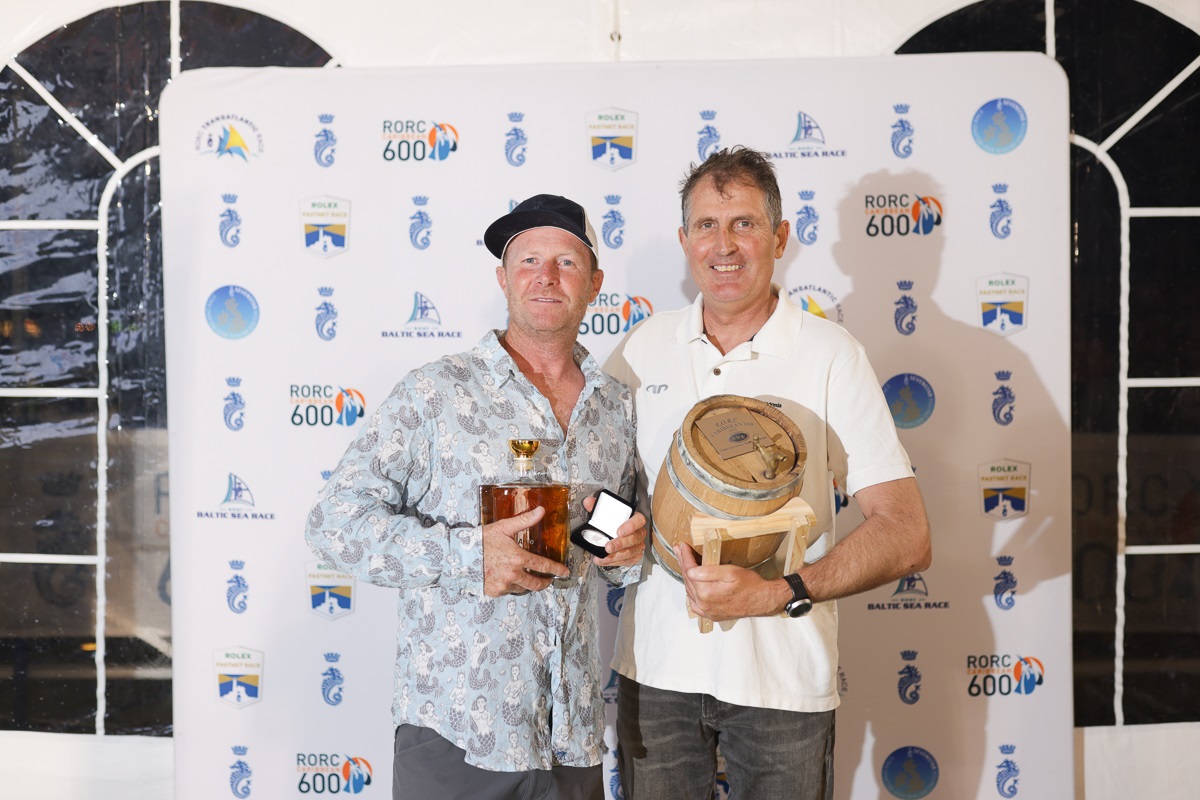 Jason Carroll's MOD 70 Argo (USA) crossed the finish line of the RORC Caribbean 600 to take Multihull Line Honours and set a new Multihull Race Record of 29 hours, 38 mins, 44 secs. Giovanni Soldini's Multi70 Maserati (ITA) was just 2 minutes and 13 seconds behind Argo, but did win the MOCRA Class after time correction. Peter Cunningham's PowerPlay (CAY) led in the early part of the race but finished third over the line. Gilles Lamire's Multi50 Groupe GCA-1001 Sourires (FRA) was third after MOCRA time correction.
"This race is always an emotional rollercoaster," commented Argo's Jason Carroll, who has come runner-up in the last two editions. "I think we traded the lead with the other boats about five or six times and the last change was just before the finish with Maserati. We knew there was about a 30-degree header coming and we had a tacking duel with more tacks than we had done the whole race. Maserati tacked a little too close to us before they could build speed and we luffed them and pulled out the win. This win is one of the sweetest from how hard-fought it has been. This was an opportunity not just to sail fast but to flex your sailing skills. This is our favourite regatta of the year; it is very well run and we love coming to this one."
Class40 Division
Gone in 61 seconds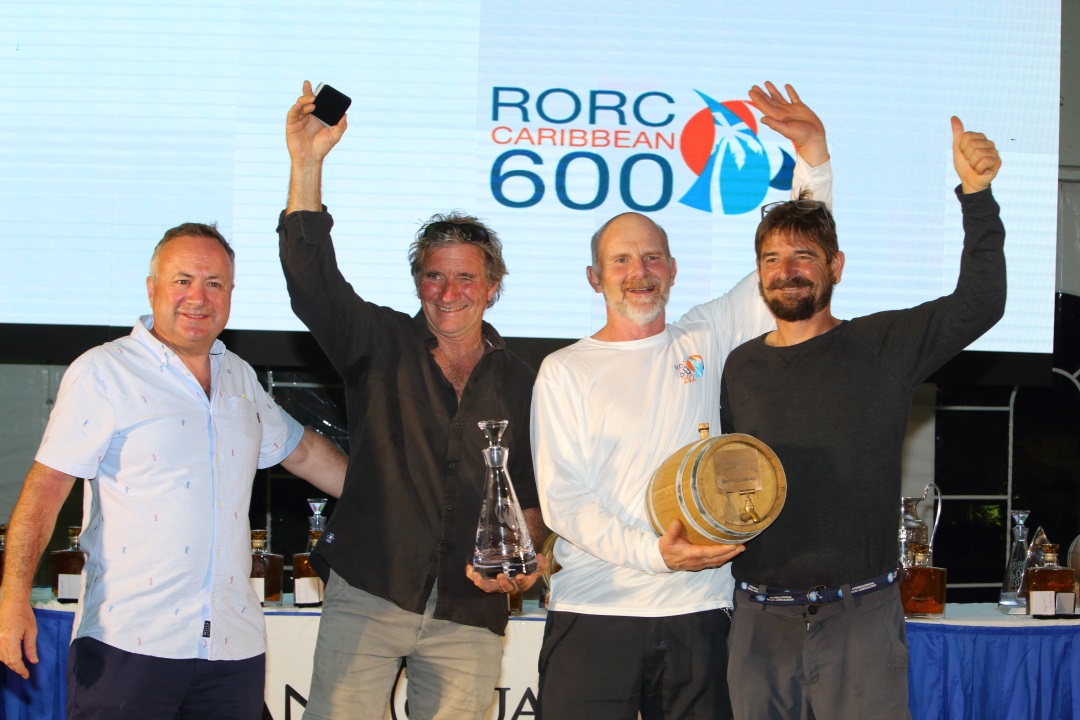 The winner of the nine-strong Class40 division went to the wire with a dramatic finish. Charles-Louis Mourruau's Guidi (FRA) had led for most of the race but stalled as the breeze faded with the finish line beckoning. Finimmo (FRA) took the lead in the last few miles to win by just 61 seconds after racing for well over three days and nights. The spirit in the Class40 division shone through with the Finimmo team going to greet Guidi, consoling their adversaries.
The Owen Clarke designed Finimmo was sailed by a team of four co-skippers: Herve Thomas, Benoit de Froidmont, Gerald Veniard and four-time Vendée Globe sailor Kito de Pavant. Figarist Gerald Veniard commented: "We had a good start, the first Class40 to Barbuda, but then Guidi came back and smashed us downwind. At St Maarten we fought back but Guidi extended on the downwind leg to Guadeloupe. Our strategy at Guadeloupe did not work and when we were 20 miles behind we thought the race was lost. After Redonda, Guidi was offshore in no wind and we passed them to win. It was the icing on the cake, after a match race like that."
IRC One
Sunrise wins full-on battle with Dawn Treader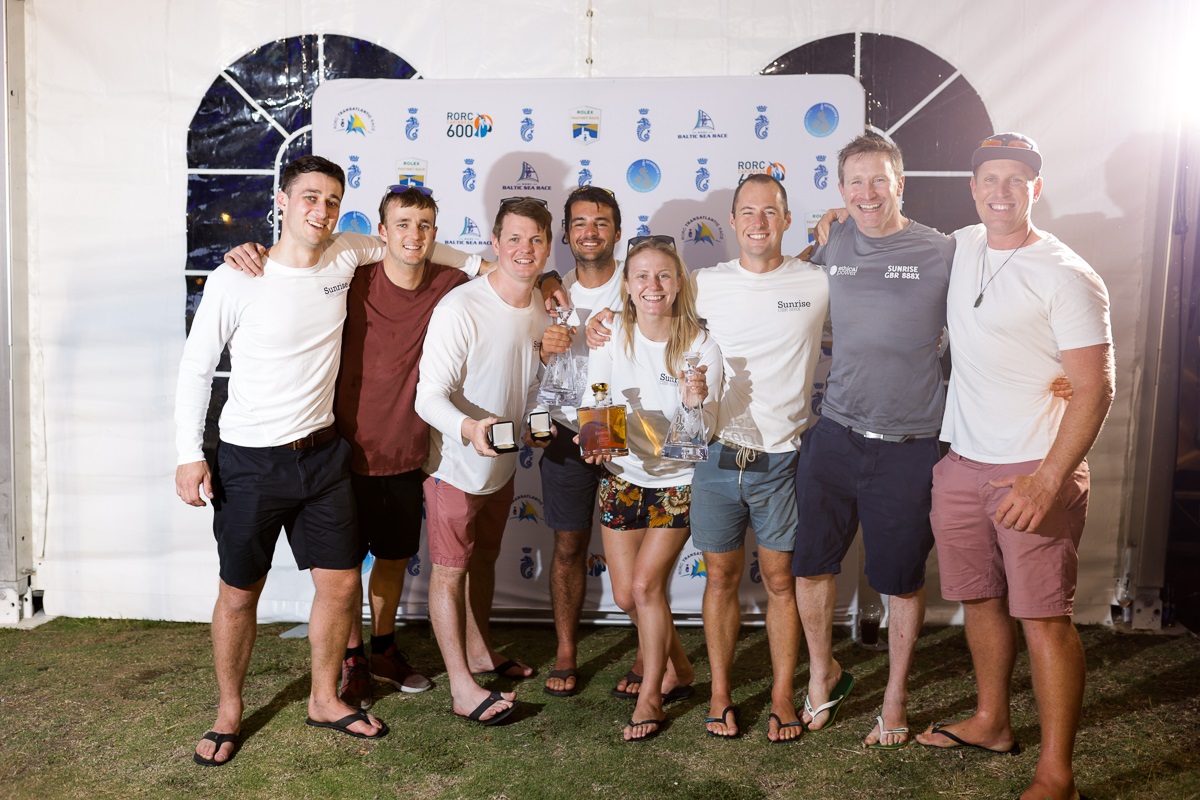 Tom Kneen's JPK 1180 Sunrise (GBR) was pushed all the way by Ed Bell's JPK 1180 Dawn Treader (GBR). The two teams are very friendly off the water, but out on the 600-mile race track, the gloves were off. Sunrise won but only just, beating Dawn Treader into second place by under 12 minutes after IRC time correction. Third was Jacques Pelletier's Breton team racing the Milon 41 L'Ange de Milon (FRA).
"This is the first time we have raced Dawn Treader in anger since the Rolex Fastnet Race and they gave us one hell of a race, including rolling us downwind, which was terrifying from my perspective," commented Sunrise's Tom Kneen. "The last 48 hours were the most stressful of my short racing career. We had to work really hard to beat Dawn Treader; this race has been a massive learning curve and I am really glad I did it. I would say this is the toughest race we have had with Dawn Treader as they have pushed us to the limit the whole way round."
IRC Two
Magnificent Seven for Scarlet Oyster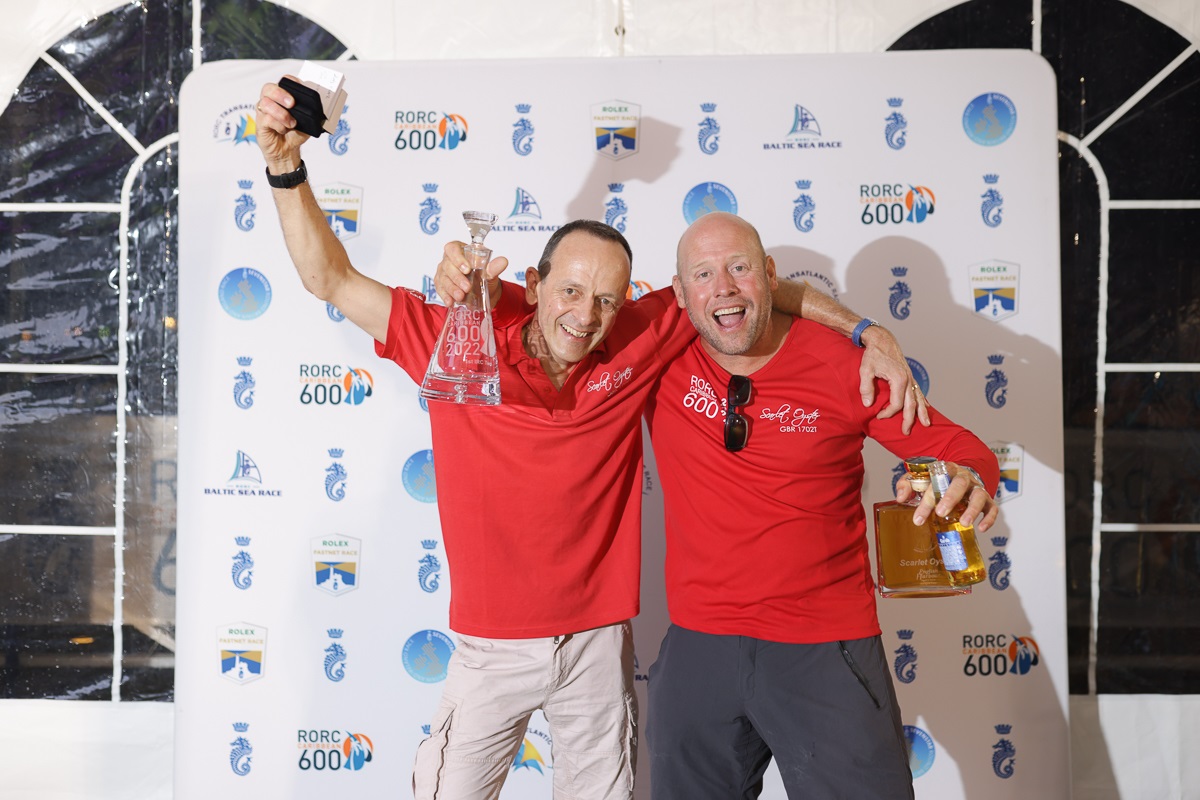 Ross Applebey's victory in IRC Two was his eighth class win in the RORC Caribbean 600 and the seventh for Oyster 48 Scarlet Oyster (GBR). Global Yacht Racing's First 47.7 EH01 (GBR), skippered by Andy Middleton was second and Richard Palmer's JPK 1010 Jangada was third in IRC Two. Racing with Jeremy Waitt, Jangada retained their class win in IRC Two-Handed. Tim Knight's Pogo 12.50 Kai (GBR) racing with Chris Swallow, was this year's runner-up.
"Every race ('600) I have done has been different," commented Scarlet Oyster's Ross Applebey. "This year, we got off to a good start. The Scarlet Oyster crew work hard and there is very little I can look back on and say we could have done any better, which is unusual for a race this long. I think this race stands out as the cleanest race for this team. IRC Two is far from a soft class, it is tough, close competition."
The RORC Caribbean 600 is made possible by the continuing support of the Government of Antigua and Barbuda, Sevenstar Yacht Transport, Rolex and the Antigua Yacht Club. RORC CEO Jeremy Wilton introduced RORC Commodore James Neville at the Prize Giving who thanked and congratulated every team that had finished.
The RORC Commodore kept a special moment to applaud the passionate race volunteers led by Helen Spooner: "The Spirit of the RORC Caribbean 600 is represented by the wonderful volunteers that work 24hrs on shifts to finish the boats and to meet every sailor with a smile, cold Carib Beer and cheers on the dock. Thank You, you have been amazing!" Race Director Chris Stone officiated at the Prize Giving which was attended by representatives of all the teams racing in the RORC Caribbean 600 and awards were presented by His Excellency Sir Rodney Williams, Governor General of Antigua and Barbuda, the Hon. Charles 'Max' Fernandez, Minister for Tourism & Economic Development and the Hon. Chet Greene, Minister of Foreign Affairs, Immigration and Trade.
RORC CEO, Jeremy Wilton closed the prize giving ceremony by thanking the local authorities and race partners, which included Antigua Distillery who gave each boat an engraved decanter of English Harbour Rum, Antigua Yacht Club for use of their facilities, Antigua and Barbuda Tourism Authority and Axxess Marine.
The RORC Caribbean 600 is part of the RORC Season's Points Championship which this year includes the inaugural RORC Baltic Sea Race in July and the Sevenstar Round Britain and Ireland Race in August. The 14th edition of the RORC Caribbean 600 will start from Antigua on Monday 20 February 2023.
Special awards included: Mariella Trophy Challenge Trophy for best classic boat over 40 years old went to Caccia Alla Volpe sailed by Rocco Falcone; Best Caribbean boat went to Pamala Baldwin's Liquid; the Bella Mente Trophy for the first yacht to finish that is manually powered without either variable or moveable ballast went to Shelter Island Transatlantic Partners' Prospector, First monohull past St Maarten, winning an FKG rum barrel went to Skorpios, First multihull past St Maarten, winning an FKG rum barrel went to Argo and the RORC Caribbean Series Trophy for best combined score in the RORC Transatlantic Race and RORC Caribbean 600 was awarded to Comanche.